It's been a rough couple of months for mobile tech company Xurpas, the first-ever Filipino tech company to IPO, whose stock fell 49 percent last year.
Xurpas started 2016 really strong. It went from PHP 15.62 to an all-time high of PHP 19.80 on April 14, but then the stock plummeted to close the year at PHP 7.99 on December 29, losing over US$400 million in value. It's now worth roughly US$320 million.
The buzz around the company's remarkable growth story made it one of the most highly sought-after stocks in the Philippines since its 2014 IPO.
But concerns about its acquisitions took a toll on investor sentiment, two market analysts we talked to said.
"While Xurpas' revenue has gone up, its cost and expenses also bloated. That's one obvious cause of concern," noted Jun Calaycay, head of research at brokerage firm A&A Securities.
"Its net income was further dragged down by higher equity losses on its acquisitions. The companies Xurpas invested in are either in the beta-testing stage or in the process of ramping up operations – probably one of the reasons investors started selling towards the end of the year," said Jay Laurel of COL Financial.
Overvalued?
"Investors are realizing that the numbers they see don't justify their expectations before. The acquisitions will take time to pay off. The stock was overvalued, so investors are trimming the fat," Jun added.
Xurpas' listing in December 2014 was closely watched as it marked a milestone for the Philippines tech industry. Its growth also resonated well. Xurpas develops an array of products such as games for mobile users in the country and creates proprietary platforms for the largest Philippine mobile operators. It was one of those rare gems that went straight to IPO without tapping external funding.
With much hype, the company sizzled in its market debut, hitting the 50 percent daily surge cap, which made it one of the nation's most successful IPOs to date.
Everyone was bullish on the company's prospects and the caliber of its management, led by Nix Nolledo, a key figure in the local tech scene.
Right after its listing, Xurpas embarked on a buying spree, acquiring assets across Southeast Asia. While many of those acquisitions increased its topline, they came at a price.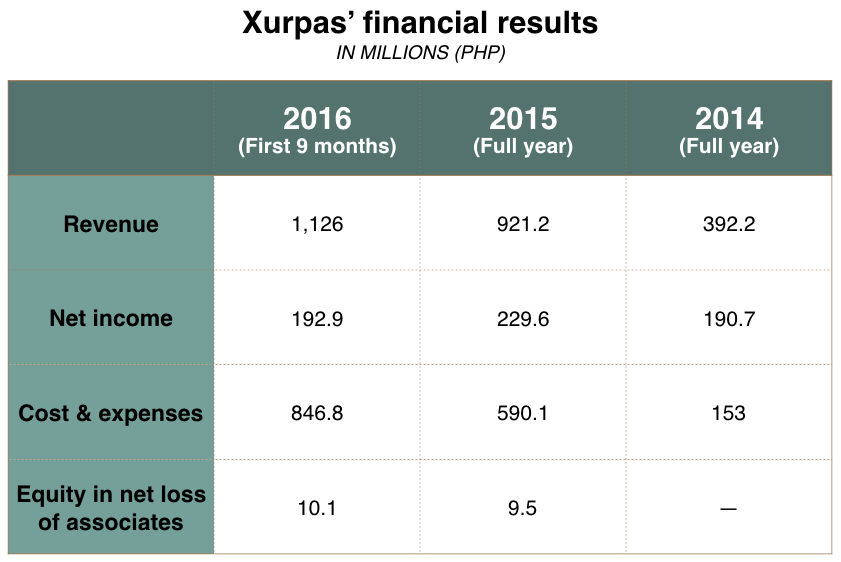 The cost and expenses were attributed mainly to the operating expenses of acquired units, increases in salaries and wages, and investment and acquisition-related costs and legal fees – the latter being non-recurring. Also part of expenses, the equity losses simply refer to Xurpas' share in the losses of its investees, which are in their early stages.
Zooming in on the stock, the price started its downtrend sometime in August after the firm released its first-half financial results. It dropped sharply in October when the company announced its latest acquisition, Singapore-based mobile advertising and marketing startup Art of Click. Art of Click's impact on financials is yet to be seen.
"The market is just correcting Xurpas' value and removing the excesses," Jun emphasized.
Compared to the overall market, Xurpas was way more volatile. Crunching some numbers, Jun dubbed it an "ultra high beta" stock. Beta measures how much individual stocks' movements deviate from the market, which has a beta of 1. A stock that swings more than the market over time has a higher beta, while those that move less have lower. High-beta stocks are deemed riskier. That explains why Xurpas was down by high double digits whereas the Philippine Stock Exchange index managed to end the year flat – despite taking a beating due to Philippines President Rodrigo Duterte's outbursts.
It's crucial to note that since Xurpas is relatively new to the market, it has insufficient price history to establish a reliable beta. Plus, while having a high beta means volatility in the near term, it doesn't rule out long-term opportunities.
Or undervalued?
To stem the decline in its market price, Xurpas launched a US$34 million share buy-back program in November that's still in effect now.
"The buy-back program aims to improve shareholder value and is deemed appropriate given the substantial undervaluation of the company's shares," it said in a market disclosure then.
Nix Nolledo tells Tech in Asia he believes Xurpas is "undervalued compared to its long-term true potential."
"Analysts are more accustomed to traditional businesses that, on day one, already show immediate returns. You see a lot of our investments are key strategic assets that will drive our long-term growth," he says. "A lot of these companies allow us to enter areas of opportunities that, if we try to organically build on our own, will take us too long to execute. Had we stayed in one market and only one business category, the opportunity would have been smaller."
While the company is profitable, "there's really a decision to expand the growth and reach the full potential of the business," Nix adds.
Art of Click, for example, was a huge investment, on the surface seeming like a new business line, which made investors wary. But the synergies that the startup will create with Xurpas' mobile consumer businesses will be vital. "We will now make money from advertising, which is an integral part of any mobile platform," explains the boss.
Nix says the bottomline may not be growing as fast as the topline as a lot of their acquisitions are still in the early stages – but when these companies mature, he expects the margins to catch up.
The challenge for Xurpas as a listed company is managing market perception.
Being listed gives the firm access to a tremendous amount of capital, Nix states, but the flip side is it doesn't have the luxury of investing in new growth opportunities without public scrutiny. Whereas privately held tech companies – like ride-hailing apps Uber and arch-rival Grab – can lose money for many, many years but still enjoy investor confidence.
Converted from Philippines pesos. Rate: US$1 = PHP 49.89.
This post The first-ever Filipino tech company to go public had a rough 2016 appeared first on Tech in Asia.

Source: TechInAsia