Ecommerce in Southeast Asia continues to attract investors, though there's been a noticeable slowdown in the number of deals, while fintech is picking up smartly.
According to the Tech in Asia database, capital worth US$123.2 million flowed into ecommerce across 9 deals in the last quarter of 2016. That's down from 21 deals in the same time span the year before.
If you look at the total amount of funding the story's a little bit different. In Q4 2015 this figure was much lower, at $47.62 million – about a third of the funding from the last quarter. The total for Q4 2016 is bloated as a result of one particularly large deal, a reported US$100 million investment in Matahari Mall.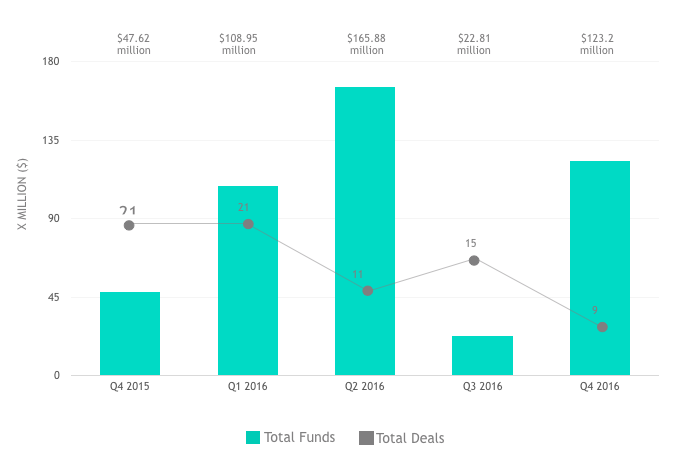 Of the total 56 deals in 2016, we recorded 20 seed rounds and 12 series A rounds, with only 5 series Bs and one C round.
In 2015, ecommerce funding also tended to be early stage, with 38 seed rounds and 23 series A rounds. It's mostly young companies who get funded, while money doesn't come as easy for more mature companies looking to raise follow-on rounds.
This correlates to an observation made by Stefan Jung of venture capital firm Venturra, who concluded that Southeast Asia lacks series B and later-stage investors who can write bigger checks for companies in this category.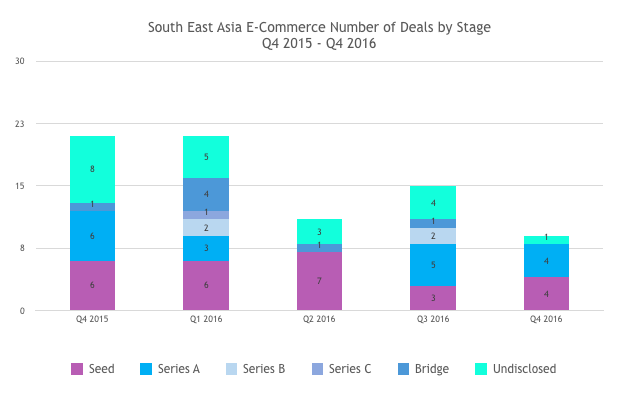 Still the most capital-intensive sector
In 2016, there were a total of 56 investments. Fintech attracted more investments last year with a total of 73.
Despite the lower number of deals, the amount of capital flowing into ecommerce that year remained higher than other industries, with a total US$420.9 million. Fintech, by comparison, only saw US$194.6 million in capital.
Ecommerce in Southeast Asia fared better in 2015, attracting a total of US$734.61 million in 84 deals, while fintech pocketed US$126.63 million in 60 deals.
Matahari Mall mega-funding
Indonesian conglomerate Lippo Group reported a US$100 million boost in funds for its ecommerce endeavour Matahari Mall, in a round led by Japanese corporation Mitsui & Co.
It was the largest single round of funding reported in Q4 2016 by far. In total, all other deals only amounted to US$23.2 million.
Attractive fashion
The most relevant ecommerce segment was fashion and lifestyle, comprising one-third of startups that received investment in Q4. This includes Pomelo from Thailand and Style Tribute from Singapore.
Singapore leads Southeast Asia
Singapore was the main destination for ecommerce funding this quarter, topping neighboring countries like Indonesia and Malaysia in the number of deals it scored. The city-state remains a popular hub for conducting business in the region, due to the ease of company registration and lower taxes.
Research and data visualization by Tech in Asia's Dian Fadhila.
This post Ecommerce deals fall behind fintech in Southeast Asia appeared first on Tech in Asia.

Source: TechInAsia