Google is a multi-billion dollar company because it knows what we desire. So when it releases its yearly report on popular search queries in a given year, some powerful trends emerge.
For example – humans everywhere love games and entertainment. Who could have guessed?
It gets more interesting when you look at the details.
Pokemon unites the world
Data released by Google to media today shows "Pokemon Go" leads global search trends this year.
Then there's "iPhone7," "Donald Trump," "Prince," and "Powerball." Powerball is a lottery popular in English-speaking countries.
Pokemon Go was also a craze across our region.
The game topped the trending search queries lists in Hong Kong, Indonesia, Japan, and Taiwan and made it to the lists in India, Malaysia, Philippines, Singapore, Thailand, and Vietnam, according to Google. Only South Korea didn't have Pokemon in its top results.
Those 11 countries were the ones included in Google's report. The search company compiled a top 10 list of 2016's most popular searches for each.
Surge of interest in sports events
Compared to the rest of the world, most Asian countries saw a huge uptick in interest in sports events.
"2016 Olympics" rose to the top 10 of popular search terms in almost all of the Asian countries surveyed by Google. Football tournaments like "Euro 2016" were also trendy this year, topping the lists in Malaysia and Singapore.
Korean drama is infectious
Korean movies and TV series continue to be a hit in Asian countries, far beyond Korean borders.
This year, the Korean drama Descendants of the Sun made it to the trending search queries lists of seven countries in Asia. In addition, Korean horror zombie flick Train to Busan was popular in Taiwan, Malaysia, and the Philippines.
What's curious in this context: our part of the world wasn't very concerned with the passing away of pop icons Prince and David Bowie. Both made it to the top 10 internationally, but neither showed up in any Asian country's list.
Korean drama vs Trump, 1:0
There's something you need to know about how Google compiles this data.
It looks at search trends, not the absolute volume one search term gets. What counts is which terms have the most impressive spike that year.
If you just looked at volume, the terms wouldn't change much over time, and a lot of it would probably be NSFW.
But you can also reveal some interesting facts by looking at volume.
In pure numbers, these are the parts of the world that showed more interest in the next episode of Descendants of the Sun than finding out who this Donald Trump person is.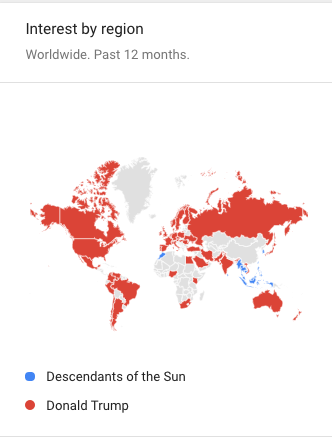 Priorities, Southeast Asia and Morocco.
This post Asia's most popular Google searches this year appeared first on Tech in Asia.

Source: TechInAsia