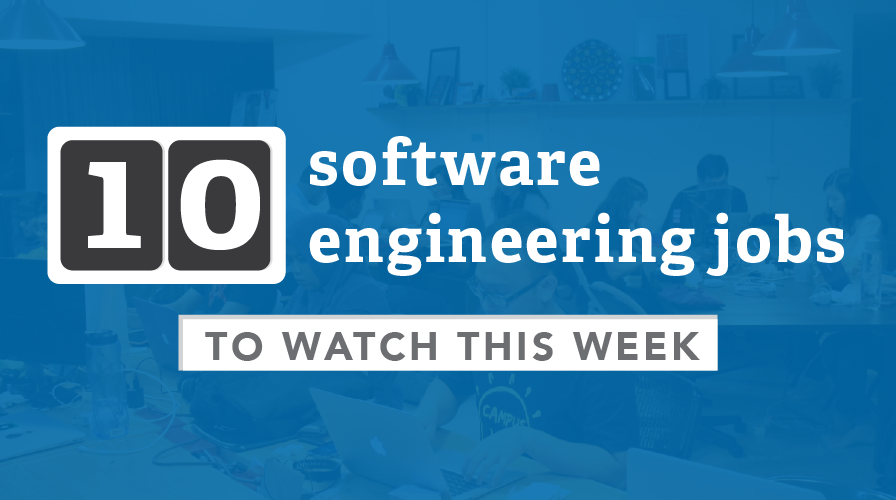 Looking for opportunities in software engineering? We have handpicked 10 jobs for you this week. Click on the links below and apply away!
Recruiting and keen to list your jobs in future articles? Click here to create your company profile and post jobs. We feature jobs based on the following criteria:
Activity of recruiters on the platform. Recruiters who actively post new jobs, remove old ones, and accept/reject applicants will have higher chances of being featured.
Completeness of company profile and job details. Company with incomplete profile or poor job description will not be featured.
---
Android Front End Developer at Super Effective
Work location: Beijing, China / Full-time
Requirement: Experience developing, releasing and maintaining Java Applications, deep understanding of the Android SDK, amazing troubleshooting and problem-solving skills.
Skills: Mobile application development, Javascript, HTML5 & CSS3.
CNY 100,000 – 300,000

---
Software Engineer iOS at WhizKidz Media
Work location: Gurgaon, India / Full-time
Requirement: Strong CS fundamentals and good in DS/Algorithms, proficient in using native UI components, widgets and layout design, must have good problem solving skills.
Skills: REST, iOS development, APIs, JSON.
Salary Range: INR 300,000 – 600,000

---
Senior Software Developer Engineer at Savant Degrees Pte Ltd
Work location: Jakarta, Indonesia / Full-time
Requirement: Ability in database design and development, proficient in MVC framework, language and technology stack, willing to learn and share useful knowledge.
Skills: HTML+CSS, MVC, Java
Salary Range: IDR 10,000,000 – 20,000,000

---
Senior Full Stack Web Developer at AthenaDesk
Work location: Singapore / Full-time
Requirement: A solid experience building applications on top of RESTful APIs, experience with web backend development, strong attention to detail and proven problem-solving skills.
Skills: Javascript, HTML5+CSS3, SCSS/SASS, APIs.

---
Chief Technology Officer at SocialBuzz.com
Work location: Jakarta, Indonesia / Full-time
Requirement: 5+ years of experience leading and managing technology teams, experience with and preference for, leveraging open source solutions and able to actively communicate.
Skills: Programming, software engineering, information technology.
Salary Range: IDR 8,000,000 – 15,000,000
Equity: Yes

---
Full Stack Developer at ConnectedLife
Work location: Singapore / Full-Time
Requirement: Strong interest in software design, architecture and user experience, ability to work independently as well as in collaborative team environment, familiar with Parse Cloud.
Skills: Software architecture, information security, AngularJS.
Salary Range: SGD 3,000 – 3,600

---
Software Engineer – Front End at Inksedge
Work location: Bangalore, India / Full-time
Requirement: Experience in web application development, HTML5, CSS3, Javascript and jQuery, proven track record of deploying web UI systems, good understanding of software development methodology.
Skills: Javascript, Java, REST APIs, HTML, AJAX.

---
Full Stack Web Developer at Lynk Global
Work location: Hong Kong / Full-time
Requirement: Experience working in an Agile work environment, strong understanding of databases, ability to coach junior developers, ability to coach junior developers.
Skills: Javascript, Agile, Java, MongoDB.
Salary Range: HKD 38,000 – 50,000

---
Full Stack Developer Internship at Playa
Work location: Hong Kong / Internship
Requirement: You are fast learner, willing to work in small team and hate bureaucratic process, have the passion for technologies despite challenges, love solving problems and code.
Skills: Android, Node.js, iOS development, PHP.
Salary Range: HKD 1,000 – 2,000

---
Programmer / Developer at Ewands Sdn Bhd
Work location: Petaling Jaya, Malaysia / Full-time
Requirement: Must have a strong interest in programming work, well-versed in Object Oriented Analysis and Design (OOAD), ability to work under pressure to meet deadlines.
Skills: MySQL, PHP .NET
Salary Range: MYR 2,800 – 6,000

---
Want to see more jobs? Click here to check out the latest tech jobs!
Hiring? Click here to post jobs!
Want the latest job updates in your inbox? Join our mailing list here to get the best jobs in Asia's tech scene on a weekly basis.
This post 10 software engineering jobs to watch this week appeared first on Tech in Asia.

Source: TechInAsia